This year has been one of training for not one but two marathons. I trained and ran the LA Marathon, again, and the Marine Corps Marathon, for the first time. Sprinkled in between these two and the training were a nice family and high school reunion.
The LA Marathon was very special for me. I loved that Donna Canterna came down and ran it with me. But what made it especially special was having my grandson, Will, ran it. The memory of him running to SoleRunners' Aid Station around mile 18-19 and when I saw him after I came in will forever be imprinted within me along with all the Saturday drives for our training runs.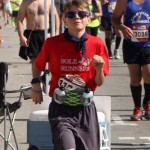 The Marine Corps Marathon was one that I was scheduled to do last year but couldn't due to my shoulder pain. So this year, I entered via a charity to insure that I got in instead of trying through the lottery.
This marathon made me nervous while training as there were two mile markers that us runners needed to meet or else be swept off the course. Even though the course changed a bit prior to the race which allowed the markers to be early and the time the same, I was still nervous. Along with this, I had a couple of aches that interrupted my training.
I did make it through both mile markers thanks to Ray Ontiveros. Ray was more than kind
enough to run and walk with me making sure I made it all the way to the finish line. This is a race I would do again in a heart
beat.
Our family reunion was a lot of fun. It was a great time to see the cousins that showed up to enjoy the weekend of old and new memories.
My high school reunion was another fun event especially as I got to spend time with my best girlfriend from high school, Candice Bush. We've been best
friends for 48 years! Yep, a long time!
As a family, we spent Christmas in Florida. That was fun as we
were able to see more family and catch up with them.
This is also the year, I turned 65! Never could I imagine turning 65. But I'm blessed to be healthy and with a sound mind. I love that I can do marathons and still feel that I can get stronger and run faster even as I age year by year.
So here's to a year that was fill of fun and to a new year filled with more fun and lots of running!