This past August was the second time I ran the Eugene Women Half Marathon. And it is becoming one of my favorite races.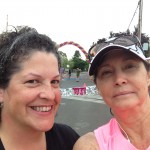 But as Cindy Bingham and I stood in the corral waiting for the race to begin there just didn't seem to be as many runners as the year before. We heard people talking about the Hood to Coast Relay race and wondered if that might be the reason.
The Eugene Women's Half Marathon is a fairly flat race, at most a 100 feet elevation climb overall. The course meanders through a park by the Willamette River making it a very pictureous run. And even though it rained during most of this year's run, it was still gorgeous.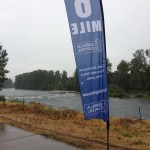 Even as gorgeous as it was, I'm concerned that this race may eventually not be profitable enough to continue. And please note, I don't have any connection with this half except I like this venue.
So I did a little bit of research on this race to try to figure out why attendance seemed down. This event started in 2010.  Attendance at that time was around 1500 but it was held in September. The following year, the race was also held in September but attendance slipped.
Starting in 2012, the Eugene Women Half was moved from September to August. During this time, the attendance has dropped considerably with this year being half of what it was in 2010.
So with the talk in the corral about the Hood to Coast Relay, we wondered if that race was held the weekend before. And maybe that was the reason why runners stayed away. Instead I found out that the relay race was held on this same weekend-not only for this year but for the previous year.
Now I admit, August is probably a better month for me to do this half than September. But this race is fun to do so I would try to plan to do this again even if it was held in September.
Eugene is a small town. Their main focus and probably main employer is Oregon University. But I find small towns fascinating besides the fact Cindy went to college here. It is fun and interesting as she points out the different college buildings where she went to class and the different dorms she lived at plus we visit and wander around the main Oregon University store.
Cindy and I normally arrive early afternoon the day before. After checking into our hotel, we walk to pick up our bibs. The expo is practically non-existent but that is fine. The support personnel are nice, making sure your timing chip has been scanned into their computer and answering any questions you may have.
Once we have our bibs and tech shirts, we wander over to the Farmer's Market to people watch and, if we are early enough, enjoy some very delicious ice cream.
We aren't big partiers. We tend to eat dinner and get to bed early so we are well rested for our run in the morning.
The walk from our hotel to the start line is a mere 3 blocks. And since this is a smaller event, you don't feel so overwhelmed as you do at a Rock n Roll event.
You also don't have the crowds along the course that you do at a Rock n Roll though the people who are cheering and volunteering are nice and genuinely kind. And let's not forget about those gorgeous views.
So not being in marketing or event promoter, what would you suggest to Eugene Women Half Marathon's committee to ensure this event can continue and re-grow their attendance? Maybe move the event back to September?
If you have done this event, what would you say to another runner to pique their interest to do this one? If you haven't done this half, have you considered it? Would you do it?
Is August a better month for you than September?
And more importantly, have you even heard about this half marathon?